MADAGASCAR 2013-2016
BE A PATHFINDER FOR NATURE 2013: July-August 2013
46-day exciting experience
(incl. 21 days in Madagascar)
"BE A PATHFINDER FOR NATURE" is an educational programme on environmental challenges and technology applicable to sustainable development. Each participant is selected on the basis of a personal ecological project (about health, education, agriculture, water, forestry, architecture, urban planning, etc.), or because he or she is already implementing a project on environment conservation.
All selected participants are 100% sponsored for the whole project.
All trainings are provided by specialists in their fields.
Through a physical and intellectual experience, immersed in the field on the island of Madagascar, the participants will apply techniques and know-how resulting from earlier training workshops in France.
Target Audience: 
11 young French-speaking boys and girls from the whole world (fluency in French is required for communication: reading, speaking, writing)
Aged 15to 20 years
Having designed an environmental project (in health, agriculture, water, forestry, education, ecological building, etc.)
Being physically fit
Training Phase (Savoy, France – 25 days) :
Physical preparation
Theory and practise of full autonomous hiking: map reading, use of compass, equipment, efffort management, etc.
Theoretical and practical workshops: composting, dry toilets, solar ovens, biogas, microbiology of soil, phytodepuration, participatory governance, biomimicry, eco friendly buildings, etc.
Teamwork dynamics
Expedition Phase (Madagascar, 21 days) :
Water: phytodepuration and water supply
Forestry: impact of forest over-exploitation, soil erosion, reforestation
Agriculture : rice cultivation, family farming
Health: construction of hand-washing station in a school and a community clinic
Travel by walking, biking and rafting
Knowledge sharing with Madagascan peers
At the end of the expedition, an individualized follow-up process will assist each participant in the implementation of his or her project.
This programme aims at helping participants to put their creative potentials into practice and lead them to define sustainable development strategies for their personal projects. It will also encourage them to communicate effectively on this topic and carry out their projects up to fruition. The objective for them is to become "pathfinders" in the field of combining opportunities from technology and environment conservation.
This expedition will be documented by documentary film and also a journey diary.
THE FILM
One of the reasons why this film will be made is the need to demonstrate the potential energy that we all have within ourselves and can discover provided we take the time of perceiving it, reaching out for it, and grabbing it. The solution goes through life experiences and unprecedented situations where searching for the "why?" is replaced with looking for the "how?". In other words, a certain form of the past is given up for the future to be liked from the present. The framework of the film is about a new encounter, first with oneself and gradually with others and the environment. The film will show the stakes involved in the project "Scouting for Nature", following the steps of a group of eleven young people, including one with a handicap, first in France. It will capture all the interactions taking place both at the individual and the collective levels in the achievement of a common goal. It will also point to the way in which, despite the handicap and obstacles, individual specificities, once shared with the group, serve to build both the group and the individuals. Youth means commitment, creativity, and solidarity. In contact with nature, young people realize that they can become better. Sport as a social and educatif tool undeniably contributes to the foundation of a balanced identity, compatible with a confident future as an adult. "I am interested in this project because it is about making a film on youth and inter-generational learning. The young characters in the film have life projects, a vision of the future, and want to change the world. The camera will try to capture this beautiful energy in the field, with its efforts, difficulties, and successes. Young people coming from various backgrounds together will learn different approaches to complement and strengthen their knowledge about the environment. In an inter-generational exchange where learning and action are effectively combined, they stand up for a worlwide cause in finding the right responses to the situations they found themselves in. As "scouts", they continue the transmission of how to live together, respect each other, share knowledge and commitment to a common cause. This film will seek to awaken the viewer's conscience and generate strong responses to today's world environmental challenges. The film also invites to take a fresh look at what a handicap really is. So the viewer may in the end understand that the handicap is not necessarily where it appears." Vanessa Tubiana – Film director.
THE FILM'S MUSICAL SCORE
Rajery is a major writer, composer and singer on the Madagascar and international musical scene. When he heard about the project, he was thrilled and decided to contribute his talent to create a musical and visual synergy in the documentary film. Challenge is something he likes. When he is not performing on western stages, he gets involved in many projects at home in Antananarivo. He initiated several festivals, and has been developing among others musicotherapy at the Anjanamasina psychiatric hospital since 1999 to assist and cure people with mental disorders. Rajery's music is not only beautiful, it is like him: it is supportive of a cause. It carries a definite sense of humanity and outlook on people. Rajery is our special envoy for the project in Madagascar. He initiated many educational and agricultural projects in the village of Ambohimanga where our young "scouts" will spend some time.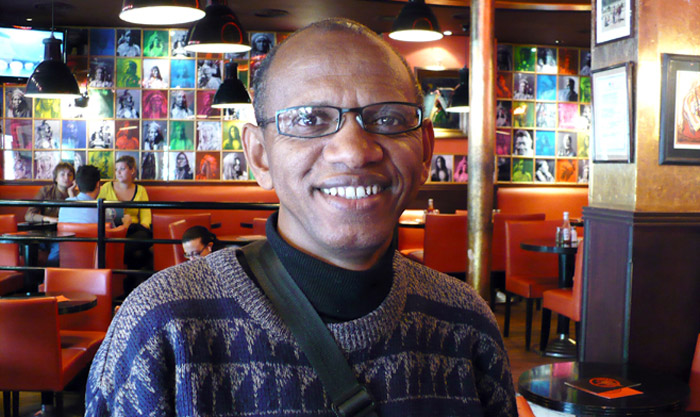 THE JOURNEY DIARY
Drafted by Barbara Delière and Christian Fimiak, this log book aims at being an additional communication tool in favour of the environnement and active youth. It will be graphically enriched by colour and sketches that will highlight the daily summary of the wonderful human adventures lived throughout the project Madagascar 2013-2016.
For more information fill in the contact form.