GIFTED AND TALENTED STUDENTS
"Our task is to educate their (our students) whole being so they can face the future. We may not see the future, but they will and our job is to help them make something of it."
― Ken Robinson, The Element: How Finding Your Passion Changes Everything
A significant percentage of students with high intelligence drop out of traditional education early, do not achieve their potential in public examinations or struggle with their first year of university. The reasons of course are many, though researchers have concluded that there is a correlation between student's social & economic status, parent's academic background and negative attitudes towards traditional education. Pathfinder Challenge believes that we can make an immediate impact on student's perceptions towards education and significantly affect student's long term behaviour and motivation levels. If students are under-achieving, or if they are the best that they can be, Pathfinder Challenge believes that we can deliver a set of skills which will all can use equally to climb their personal mountains, to conquer their demons and tap those gifts and talents which lie in each of us. Pathfinder Challenge believes that a cohort of Gifted and Talented Students can be prepared by their assigned programme coordinator, using distance learning techniques for a creative and engaging programme, which will arm them with a set of skills which will enhance self-worth and motivation, refocus their perception of what school is and is not and set achievable short term goals and lofty long term goals. Pathfinder Challenge aims to immerse students on the Gifted and Talented register in a natural environment and reset their existing attitude with the magic and creative beauty of education in the wild. The skill sets they learn in the "jungle" are transferable and will empower them to wring from the blackboard jungle all they desire. Student's view of education will change. The preparation they go through before the expedition will be exciting and real. The interaction they have prior to departure with their programme coordinator will challenge their traditional thinking patterns. The lessons they learn in the forest and the mountains will matter. The scenarios they act out will forge the strongest bonds through teamwork and real scenarios on expedition will challenge their initiative, test their intelligence and harness an inner strength that will stay with them long after they have returned home.
GTS programmes are based on each student's knowledge stimulation and exploration to overcome the challenge proposed during your stay. The students are valued and encouraged to surpass themselves when they encounter difficulty individually or in group during physical and/or creative activity.
Goals:
Overcoming fear(s)

(Re) Discover the taste for striving

Get involved in a learning process

Find the desire to learn, therefore having pleasure in doing so

Surpassing learning failure and regaining control on the activity

Show to each participant how to use his/her skills according to the context (logic, meaning, cultural references, etc)

Emotion management
Location: France, Natural Regional Park des Bauges (Savoy). The site is about one hour drive from Geneva International Airport. Duration: 11 to 15 days, up to 3 weeks according to options
Accommodation:Hotel full board
Content:Four areas of focus
The body and physical effort through mountain hiking. It is possible to add additional activity to hiking, such as:

Via ferrata

Kayaking

Paragliding

Canyoning

Donkey caravan

Fortress

The creativity of each student by means of three activities (options) giving way to imagination and to realization in taking action – creativity:

Radio controlled airplane

Audiovisual project


Comic-strips

"To learn, yes but how?"

"Living together in harmony"
Support Team: our team is composed of specialists such as Orthopedagogy, Nonviolent communication specialist, Collaborative process educator, Mountain leader and PE teacher, Sport Instructor, Cartoonist, Movie director (documentary), Radio controlled airplane facilitator.
See our "Performance" section in the FAQs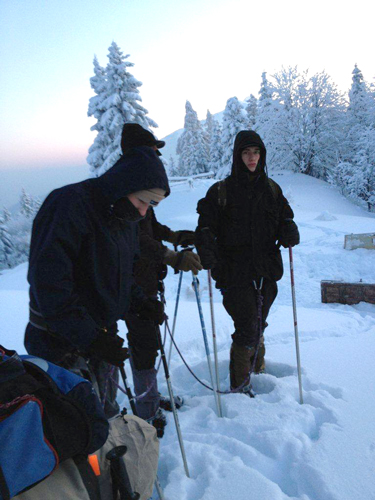 For more information fill in the contact form