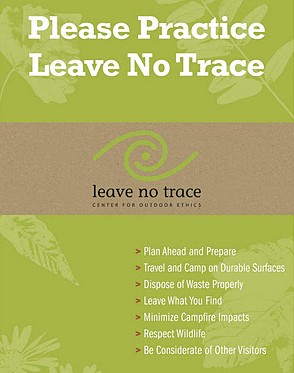 « LEAVE NO TRACE Center for Outdoor Ethics teaches people of all ages how to enjoy the outdoors responsibly, and is the most widely accepted outdoor ethics program used on public lands. Through relevant and targeted education, research and outreach, the Center ensures the long-term health of our natural world. In its simplest form, Leave No Trace is about making good decisions to protect the world around you – the world we all enjoy. » Do your part and pass it on to your friends and relatives when you come back home.
Leave No Trace outdoor ethics start right when you attend one of our programmes. And when you are back home you can adapt it to your family, your community, your school. It could be used as a knowledge base for educational initiatives (such as Biology class).
As an Outdoor Education specialist, Pathfinder Challenge is a member of Leave No Trace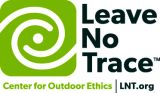 « SANS TRACE est un programme national et international conçu pour aider les adeptes du plein air réduire leur impact lorsqu'ils s'adonnent à la pratique d'activités telles la randonnée pédestre,  le camping, le pique-nique, la raquette, la course à pied, le vélo, le canot, l'équitation, le ski, l'escalade, etc. Le programme vise à sensibiliser les adeptes du plein air aux techniques qui permettent de prévenir et de réduire la dégradation du milieu naturel. Sans trace se veut un programme axé sur l'éducation et le respect. »
Pathfinder Challenge dispense et applique les enseignements d'éthique environnementale. Comprendre comment une activité de plein air peut avoir des impacts sur l'environnement est nécessaire pour réduire le stress causé sur la faune et la flore. Faites votre part et faites-en profiter vos amis, vos proches lorsque vous serez de retour à la maison.
Les protocoles (7 principes)  commencent dès que vous participez à l'un de nos programmes. Et une fois de retour chez vous, vous pouvez l'adaptez à votre famille, votre collectivité, votre école. Ces protocoles peuvent être utilisés comme base de données pour des initiatives éducatives en cours de SVT

En tant que spécialiste de l'Outdoor Education, Pathfinder Challenge est membre de Leave No Trace