DIGGING DOWN DEEPREPOUSSEZ LES LIMITES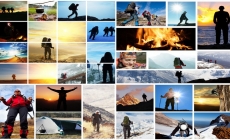 3Ds is a programme  made on purpose for those who have to meet fitness standards where stamina, teamwork, goal achievement and anticipation are more than ever involved. To put it in a nut shell our Digging Down Deep programme is suitable for CCF.
3Ds is a 3-week programme taking place in mountainous areas from May to September, in France. A winter version does exit for those who want to dare more. The final six days are composed of  122 kilometres hike to cover with more than 6000m to climb up and more than 5000m to climb down. And 41.5 kilometres canoeing on lake and river. This adds up to the distance covered during the first two weeks. You will experience cannyoning, via ferrata, a tamden paragliding to complete your daily tasks while being on your own or in charge of a team to bring safely from one place to another place.
A 3-week programme (20-day training) designed to learn about yourself and in this process to:
develop confidence & communicative competence

build the skills necessary to function under pressure

develop willpower & the temperament for decisive action

develop personal, inter-personal & personal-presentation skills

develop sound leadership & motivational skills
On course completion, participants would be expected to have achieved a high standard of self-discipline and organisational skills, and be able to:
demonstrate effective map-reading skills

demonstrate effective compass use skills

plot navigation and foresee supply points

express and defend considered opinions

demonstrate effective leadership skills

handle the unexpected with authority

set out training methods and resources

launch a Search And Rescue party

make decisions as a team leader

perform on your own
Whatever the weather conditions and the natural environment you have to go through, you have to complete the tasks, day and night.
With this programme you really learn and need to dig down deep to complete. And expand the limits.
« REPOUSSEZ LES LIMITES » est un programme fait sur mesure pour celles/ceux qui doivent répondre à des critères où résistances, travail en équipe, atteinte d'objectifs et anticipation sont plus que jamais impliqués.
« REPOUSSEZ LES LIMITES » est un programme de trois semaines se déroulant en milieu montagnard de mai à septembre, en France. Une version hivernale existe pour ceux qui veulent oser plus. Les six derniers jours sont composés de 122 kilomètres à parcourir dont plus de 6000m de dénivelée positive et plus de 5000m de dénivelée négative. Et 41.5 kilomètres de canoë sur lac et rivière. Cela vient s'ajouter aux distances parcourues durant les deux premières semaines. Vous ferez l'expérience du canyoning, de la via ferrata, du parapente biplace pour achever vos tâches quotidiennes en étant seul(e) ou bien en charge d'une équipe à mener en toute sécurité d'un endroit à un autre.
Un programme de trois semaines conçu pour vous découvrir et ce faisant de :
développer la confiance en vous et des compétences en communication

construire les capacités nécessaires pour agir sous pression extérieure

développer volonté et tempérament pour les actions décisives

développer des compétences personnelles et inter-personnelles. Ainsi que la manière de les présenter.

développer un leadership solide et des savoir-faire motivants
Au final, il est attendu des candidats d'atteindre de hauts critères d'auto-discipline et organisationnel, et d'être capable de :
démontrer leurs compétences en matière de lecture de carte

démontrer leurs compétences en matière d'utilisation de la boussole

planifier une randonnée et de prévoir les points de ravitaillement

exprimer et de défendre des opinions justifiées


démontrer des compétences efficaces à diriger une équipe

faire face à l'imprévu avec autorité

exposer des méthodes d'entraînements et les équipements nécessaires

faire appel aux services de secours

prendre des décisions en tant que chef d'équipe

progresser seul
Quelles que soient les conditions météorologiques et l'environnement naturel traversés, vous aurez à accomplir ces objectifs, jour et nuit.
Avec ce programme, vous apprenez et vous aurez réellement besoin de repousser vos limites.
Pour plus de renseignements, remplissez le formulaire de contact.