We are proud to unveil our website and launch our Outdoor Education programmes and a new style of company that is a home for the adventurer.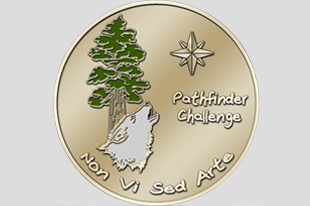 The Clan at Pathfinder Challenge hopes that all participants will have, besides bringing back home some trail dust and blisters, the glint in their eye of the never dying flame of the explorer. 
In a sort of way, this look in your eyes is our award. And we are taking the opportunity of this website page to express our gratitude to you for helping us, through your smiles, laughs, looks, tears and personal goals in keeping this inspirational flame alive year after year. Our Outdoor Education tailor-made programmes came from our own dreams and our own desires. They are the fruits of a deep reflexion to make them available for the many.
Pathfinder Challenge is an invitation to discovery and to remember all scents, views, emotions, knowledge and experience learnt and shared. Pathfinder Challenge is an opened door on the beauty of the world. About being aware of nature and the world, living in the present, making everything out of each day, and starting your day in a good mood. And to find your own strategy to maintain this state of mind.
Pathfinder Challenge is a French based operated company, located in the Alps, nearby Geneva International Airport. We offer a wide range of outdoor activities and Outdoor Education programmes for students. We are operating in Cambodia, France, Ladakh, Madagascar, Spain, Sultanate of Oman and Switzerland.
They make us grow. They give us the opportunity to see the world from different angles and find that we all have a lot in common despite our differences. Differences help us to expand our limited visions of the world. And beyond these, it is a matter of singularity instead.
We really enjoy what we do and share with you when you participate to our programmes. For us it is a nurturing process going both ways and it encourages all of us to enjoy life every day.We aim to collaborate with happy people as much as we can. Happiness is contagious and allows to look at the world from a different perspective, if not a different reality.
"The happiness of your life depends upon the quality of your thoughts."
Marcus Aurelius
Impact of human activities are heavy on the environment. Nowadays, there is not a single day without some breaking news about our harmful habits towards Nature. Consciousness is rising about that fact. Even hiking could be a real threat to native species (animals, plants, etc). That is the reason why Pathfinder Challenge subscribes to the concept of No Trace Behind. We pay attention to food waste, food packaging and alterations to the surrounding environment. Our No Trace Behind concept and policy will help all students to integrate this idea in their journey as second nature.
Mentoring is fun. It really is. Being able of inspiring someone and stimulating him/her to find the tools for his/personal growth is precious. This is a delicate stage. This is like learning to fly for a young bird leaving its nest for the first time. This is an empowering journey for the student as much as for the mentor.
"Mentoring is a brain to pick, an ear to listen, and a push in the right direction."
John Crosby
Always first! Safety is our n°1 concern, we pay 100% attention to this aspect. And we keep it very simple, all accommodations, itineraries, means of transport and activities are planned as if it was for our own families. If we assess that it is not safe bringing our families where you are supposed to go, well we do not bring you overthere!
They allow everyone whatever their background to develop and learn. They challenge you for a life changing experience. All Pathfinder-Challenge's staff will assist you in any reasonable way to reach your goal. We are 100% committed to your success through our passions for our jobs and to get you out from the commotions of a civilization overtaken by technologies and an abusive industrialisation.
Pathfinder Challenge's staff complete a criminal record check run in-line with our Child Protection Policy. We will listen to your concerns and work with you on an individual basis to provide a secure and supportive environment.
This type of education is fundamental for the development of everyone. It favors the learning through experience. And being "into the wild" is an experience where you learn that you cannot cheat Nature. It is a school of life.
"Tell me and I forget, teach me and I may remember, involve me and I learn"
Benjamin Franklin
"Creativity is a step-on from imagination, your dreams. Because you can be imaginative all day long and do anything about your thoughts."*Pathfinder Challenge assists you to get into actions. Creativity is the action status of your thoughts and words. It is an applied imagination. And this imagination is an unlimited power of creativity.
Pathfinder Challenge does not stigmatize mistakes. You have the right of being wrong. Besides, perfection is a decoy. It is a mind set leading you to be constantly critical about yourself. It is a big downside creating negative beliefs and/or limiting thoughts about your ability to perform and create. Therefore you are constantly sending to yourself the unconscious message that "you do not deserve". If you are not prepared to be wrong you will never come with anything original. So don't cut yourself off from any valuable opportunity to learn how to interact with the world around you.
The instructors at Pathfinder Challenge have gathered a lot of knowledge in a wide spectrum of activities over many years. We aim to pass on this knowledge to you in order to assist you to learn from your mistakes while participating on our programmes and to not repeat mistakes. Therefore we combine knowledge, know-how and experience while learning from you as well. This interaction is for us the best synergy to expand!
All Pathfinder Challenge's Staff and service providers hold credentials in their field (Sport Instructor certification, Self-development certification)
Teamwork is essential for us as we deal with a lot of details and a lot of people in planning your journey with Pathfinder Challenge. As a team, we know each other's performances and work in accordance with each others strengths and weaknesses. Among our team, communication is one essential key.
He is in charge of risk assessment, Logistic and Support, Health and Safety, and Self-Development Programmes. Christian holds a Hiking certificate issued by the FFRP
Christian also holds a certificate as a Somato-psychoeducator for self-development training and programmes. He, as a EFT practitioner, teaches sport performances, stress and trauma management. He also works with special needs children.
Fabrice is licensed as a physician in France and in the USA, well-versed in emergency procedures as well as a consultant for Law Enforcement Agencies in the States for Tactical Medicine. Over satellite link, Fabrice provides medical advices to our Emergency Medical Technician while we are abroad with students and staff for any situation that requires medical approval.
And our seasonal Team Members, all certified as Sport Instructors in their field.